Now that summer has arrived, and we can finally head outside without four jumpers and a raincoat, it's the perfect time for you and Man's best friend to get out and about! Today, we will give you some different ideas to keep your dog entertained and exercised during summer, as well as advice on looking after them in the hot sun.
For those of you who love the great outdoors, summer is the perfect time to introduce your dog to new routes and environments. The countryside has miles and miles of walking routes which are great to explore. Most dogs will enjoy seeing new things and smelling new smells – this will be good for their mental stimulation, as well as physical health. You don't have to go too far either – look for some nearby country parks or woods that allow dogs, and take them there. Some beaches may also allow dogs, and the sea can be perfect to cool off a hot dog.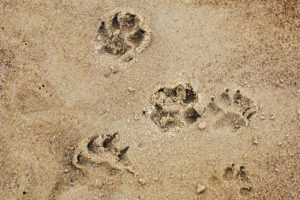 However, if you are thinking of staying at home and lazing about in the garden, don't forget that your dog will be as energetic as ever! It's important to keep up regular walks during summer, like you would any other time of year. Giving your dogs their normal two, three, or more, walks a day on your normal routine will ensure they get exercise and prevent boredom. There's nothing worse than a bored dog – boredom can lead to bad behaviour, which is never welcome. If you cannot manage extreme or distant walks, your dog will love you just as much for keeping up their familiar ones.
If you are instead someone who prefers an organised event, why not find a local dog walking group? Across the country, there are many groups that meet regularly to walk their dogs together, often in the countryside. This kind of event is perfect for an outgoing dog; they will love the new environments, new friends, and new experiences. Furthermore, it motivates you to go outside and meet like-minded outdoorsy dog owners! It's easy to find these groups online or on social media. Of course they are not restricted to walking in summer, but when the weather is good, you may find it easier to meet up.
The benefits of keeping your dog active during summer are massive. As mentioned above, it reduces boredom and stress, meaning less naughty behaviour. This, of course, means less stress for you. With canine obesity becoming a huge problem in today's society, any extra exercise you can offer your dog will be beneficial, especially for those pups who might already be looking a bit chunky! And mentally too, regular exercise will keep your dog bright and happy. All of these benefits apply to people as well, so everyone benefits from getting some fresh air.
That said, there are some things to watch out for in the long summer days…
While we might love to soak up the sun on very hot days, if you have your furry friend with you, it is important not to forget that they can overheat very quickly. On long walks, always bring enough water for you and your dog; if you start to feel thirsty, the chances are your dog is feeling thirsty too, so make sure to take regular water breaks. When you do want to sit around for a while, find some shade (or bring your own) so that your dog can lay down and be cool. Another important consideration that is a big talking point right now, is about leaving dogs in hot cars – dogs can, and do, die in hot cars, so if you think that you might have to leave them in the car for longer than a few minutes, it may be best to leave them at home. Finally, as with any new environment, make sure you are aware of the area and the route. This is just as important for you as for your dog. Check dogs are allowed across the whole route, there are no hazards for you both, and try not to push yourself too far.
Summer is for relaxing, but that doesn't have to mean doing nothing. Make walking your dog a treat, not a chore, especially when you are experiencing beautiful landscapes and weather. A few new walks here and there, as well as keeping up a regular routine, will ensure that you and your best friend will have a happy, sunny summer in the Great Outdoors!